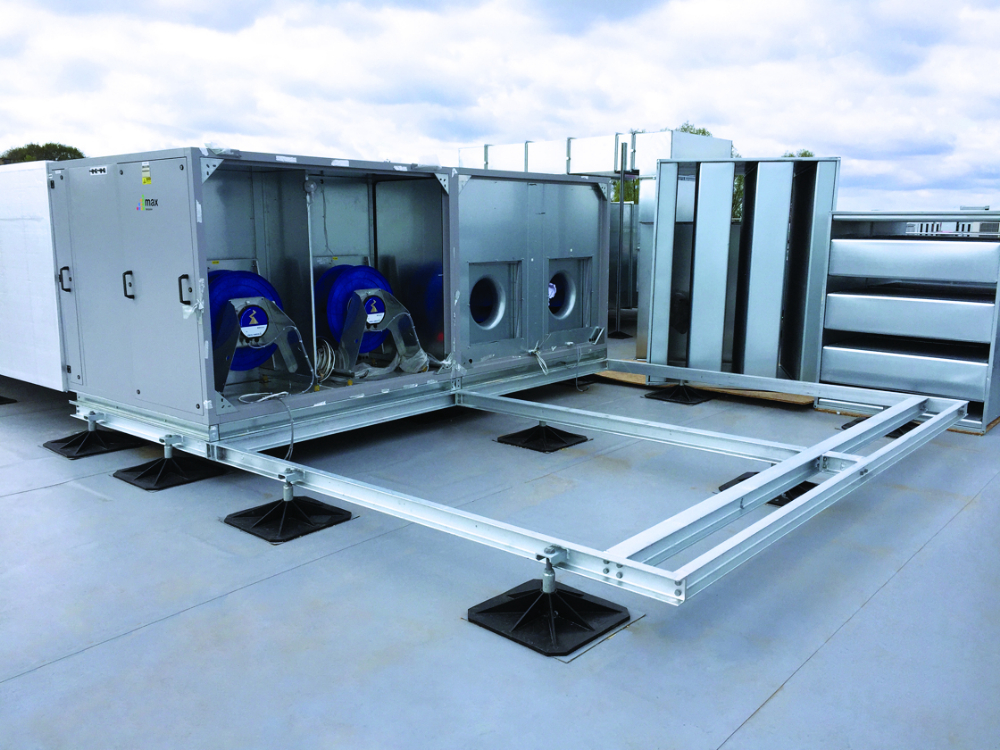 Project: Bitterne Park School, Southampton
Products: Ductwork – H-Frames, Flexi Foot and Flexi Light: Base and Extender Frame, Heavy Range Modular Frameworks and Custom Frameworks
Services: Cable trays, Ducts, A/C Splits & Air-handling units
Roof build-up: Warm roof design – PIR/PUR insulation with PVC/TPO field membrane
As part of a broader expansion of secondary schools across the city of Southampton, a new build project consisting of a large part three, and part four-story school building was built to replace existing facilities. Keir Construction, the main contractor on the project appointed Hopkins Mechanical & Electrical Engineers to oversee the installation of the building services.
Flexi Support Systems were ordered, via Bison Industrial in Botley, Southampton for their customer Hopkins installing these rooftop services. An assortment of products was required to support various functions such as cable trays, ductwork, condensers, and air-handling units. Also, due to one of the air-handling units being extremely wider than usual, we also had to manufacture a bespoke custom framework for this item.
Negating the requirements for traditional concrete plinths, our solutions offer a fast and straightforward installation process, avoiding awkward waterproofing details or roof penetrations. All solutions provide the installer with greater flexibility to make last minute changes and are supplied hot dip galvanized to suit external environments.
Sharing is caring!