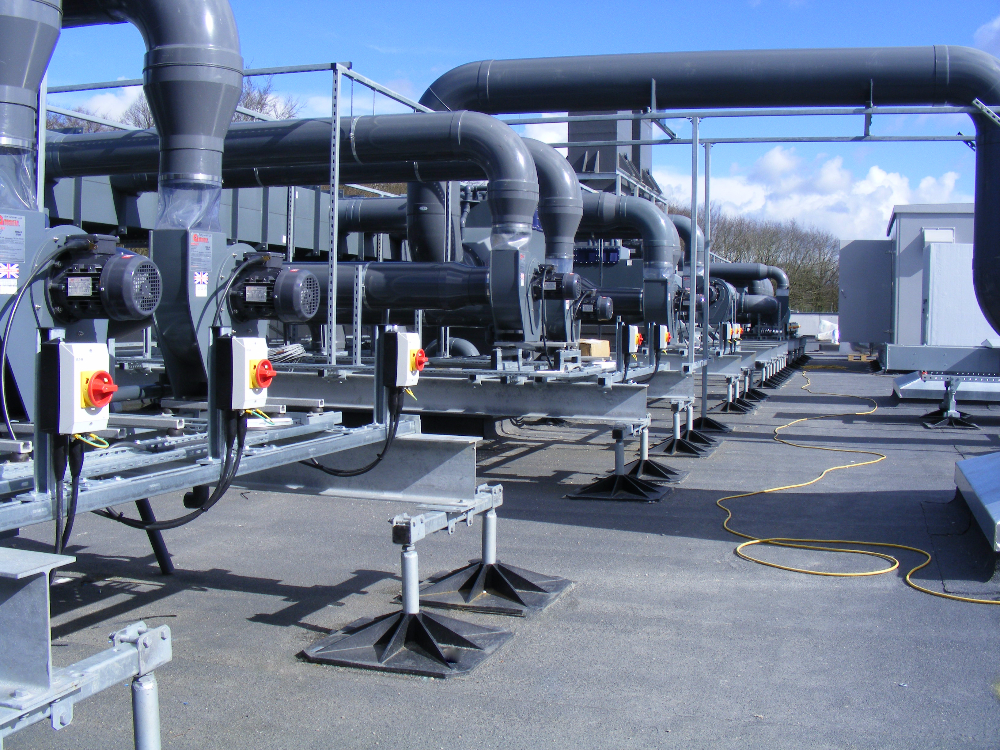 Project: Major Haulage Company, Kings Business Park. Knowsley. Merseyside
Products: Heavy Range: Twin and Custom Frameworks
Services: Extract fans, Scrubber units & ducts
Roof build-up: Warm roof design – PIR/PUR insulation with bituminous felt membrane
APMG Ltd., a major manufacturer, and installer of industrial Fans, Fume Scrubbers, and Fume Cupboards secured the contract to supply all the fume extraction equipment for significant new development at the Kings Business Park at Knowsley, Merseyside. They chose DiversiTech and Flexi Support Systems to design and supply all the rooftop support frameworks for a large amount of extraction equipment required on two roofs.
This development, done over two phases, required over 30 bespoke massive duty beams to support the main fans and extract units. Each of the 6-mtre beams was supported on two Flexi TWIN supports with 2 x 500mm feet and extensive additional cross bracing, and strut was used for secondary equipment support and stability.
The separate custom made framework supported the two sizeable central extraction units, and a large number of smaller frames were supplied to mount the smaller secondary units on.
All our hot dip galvanised frameworks were supplied in lengths and widths to accommodate the services being supported, and all structures were designed to manage the imposed loads of the equipment being supported, to ensure that uniform load distribution through the frame feet was achieved. All support frames come complete with M24 height adjustable legs to enable the installer to level the frameworks against typical flat roof falls. Steelwork is hot dip galvanised for durability and is manufactured to EN 1090-1:2009+A1:2011, Part 1.
Sharing is caring!