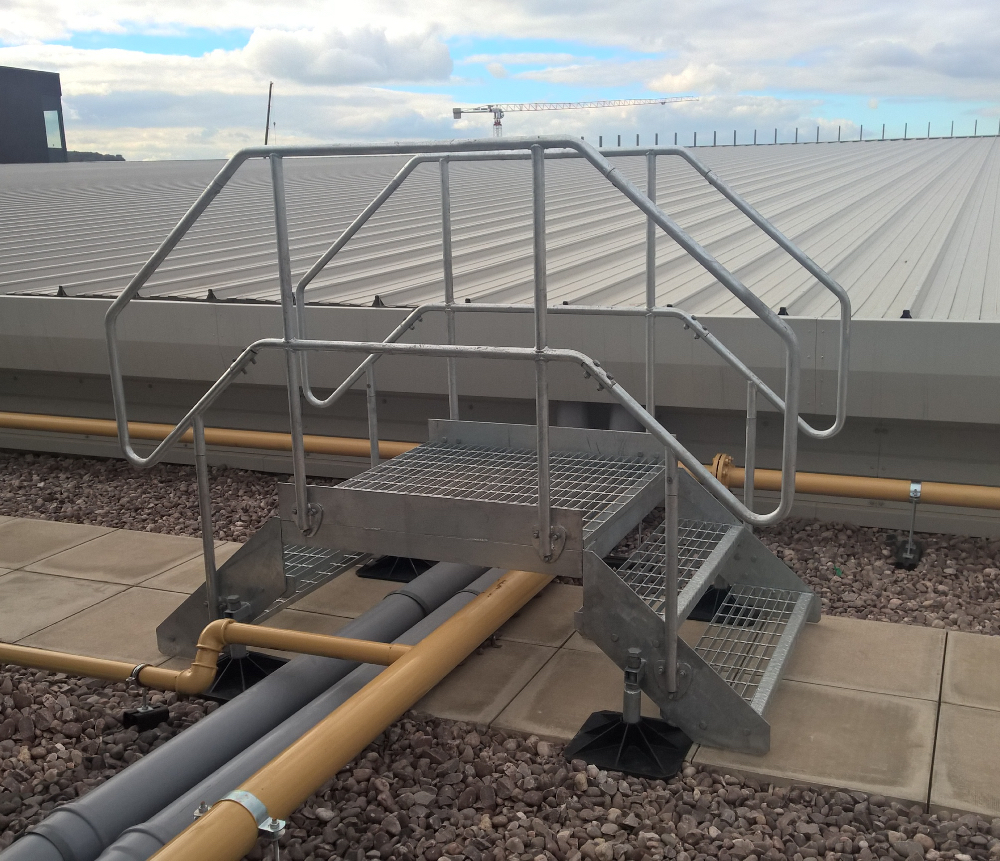 Project: Marks and Spencer Store, Longbridge
Products: Safe Access – Step Overs
Services: Pedestrian and maintenance access requirements
Roof build-up: Inverted roof design – (upside down roof)
DiversiTech and FLEXI has been recently approached by Woodward & Co (Environmental) Limited in Tewkesbury to supply bespoke access solutions together with two standard stock Step-Over's to a new Marks and Spencer Store in Longbridge, West Midlands.
Woodward's, the mechanical services contractor on the project, had various building services that required maintenance access. However, several obstacles prevented passage to the plant locations by pedestrian traffic.
Utilising our Flexi-Access range of products, we designed and manufactured individual Step-Over solutions in-line to current British Standards. We also prepared ahead of the delivery, dimensional AutoCAD drawings to ensure the Step-Over's provided with enough clearance beneath to miss the obstacles being bridged.
These modular Step-Overs are supplied flat packed, ready for quick assembly on site. They are hot dip galvanised and are designed to achieve 7.5kN/m² imposed loading. These free-standing solutions ensure that they can be re positioned on site to accommodate late design changes too. FLEXI holds a variety of Step-Overs and smaller Hop-Overs in stock, which can be delivered to site the next working day, if necessary.
The flexible nature of our systems combined with even load distribution through our non-penetrative feet, meant this removed the risk of potential leaks and thermal cold bridging, which may occur with traditional methods breaking through the waterproofing. The lightweight and portable nature of our products aided a trouble-free installation and avoiding complex, over-engineered steelwork being utilised, which is often the case.
Sharing is caring!