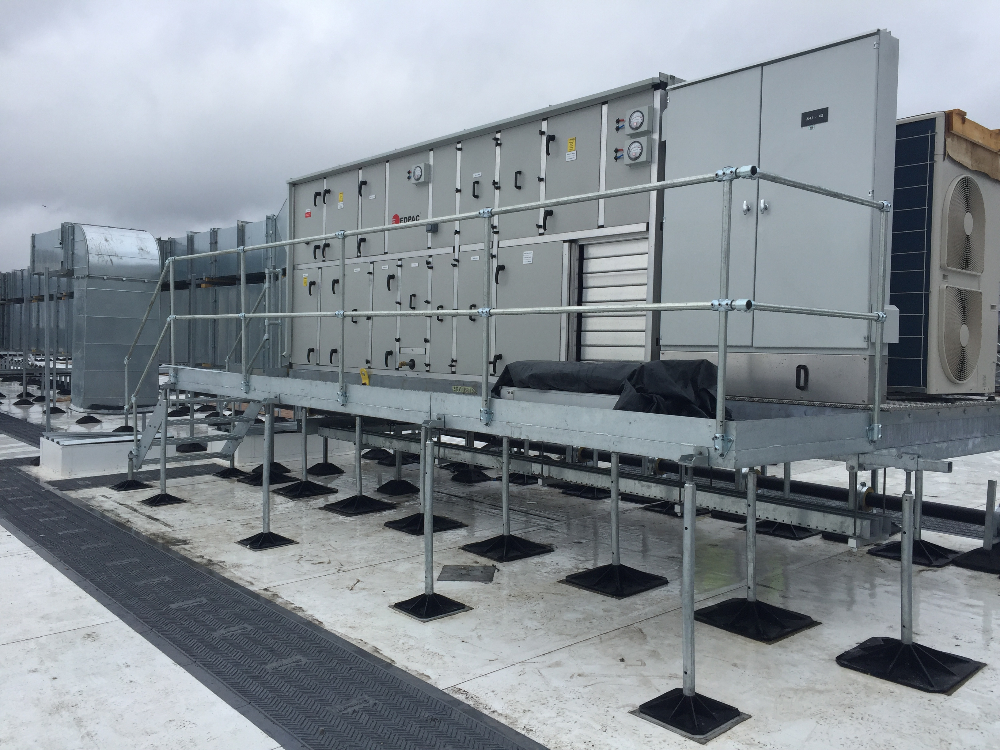 Project: New Facebook Data centre, Clonee. Co. Meath. Ireland.
Products: Heavy Range: Modular Frameworks and Safe Access, Custom Walkways and Platforms
Services: Air-handling units & associated access requirements
Roof build-up: Warm roof design – PIR/PUR insulation with PVC/TPO field membrane
The new 200 euro million Facebook Data Centre in Clonee, Co Meath in Ireland will be one of the most advanced and energy efficient data centers in the world. Featuring the latest I.T. servers, storage and networks all powered by 100% renewable energy.
DiversiTech and FLEXI was proud to have been chosen as the preferred supplier of building services support systems to the project, with support frames required to fourteen rooftop air-handling units. A bespoke access platform also accompanied each framework to one longitudinal side of the air-handling units for maintenance purposes.
The air-handling unit frameworks had to achieve specific target heights of 800mm and 1000mm in height above the finished roof level, while also contending with a 2-degree roof fall. FLEXI supplied purpose made leg assemblies to their heavy duty Flexi-Frames to achieve these specific project requirements.
The access solutions were designed to comply with current British Standards and were delivered in flatly packed kits for quick assembly on site. Dornan Engineering the Mechanical contractors working on the project were delighted with the install of our products.
Sharing is caring!