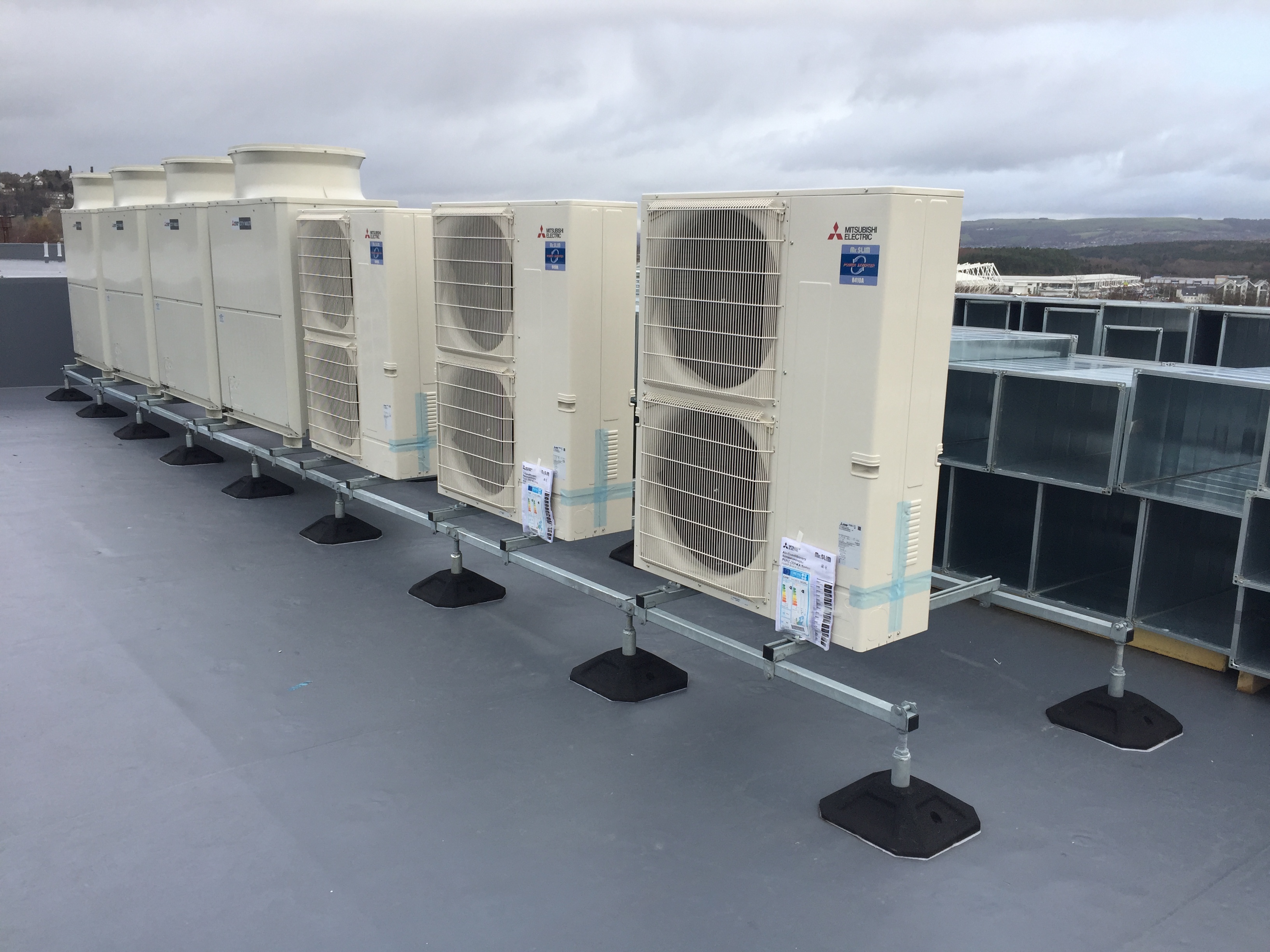 Project: Pentrehafod School, Hafod, Swansea
Products: Flexi Base & Extender Frames, Heavy Range, Ductwork Frames and Electrical Equipment
Services: VRF Condensers & Air handling units
Roof build-up: Warm roof design – PIR/PUR insulation with PVC/TPO field membrane. 2-degree & 3-degree roof falls to contend with
Swansea Council working together with the Welsh Government approved significant refurbishment works to the Pentrehafod School Estate.W. Morris, the Bridgend based Building Services Contractors, were appointed to carry out the mechanical works on the project. They chose DiversiTech and FLEXI on the day to supply all the rooftop building services support frameworks, which in turn picked up several Nuaire air handling units and a series of condensers.
Our frameworks are hot dip galvanised and are supplied in lengths and widths to suit each unit being supported. With all products being available from stock, the contractor could order frameworks last minute. FLEXI even met the goods on site, to provide the contractor with assistance in building up our solutions.
FLEXI had to overcome the challenge of supporting the services on a level framework while contending with two significant roof falls, one roof with a two-degree fall, and the other roof with a three-degree fall. To overcome this problem, FLEXI supplied an alternative foot to their usual standard product. Our alternative dense crumb rubber molded feet are available with either a 2.5-degree or 5-degree slope cut to the underside. At Pentrehafod School, we supplied our 2.5 degrees, 350mm square feet to enabled our frameworks to work with both roofs falls that were present. All support frames come complete with adjustable legs incorporating M24 height adjusters, enabling the installer to level the frameworks. With a fast installation time, all frameworks can be assembled very quickly as fixings are also supplied.
Sharing is caring!