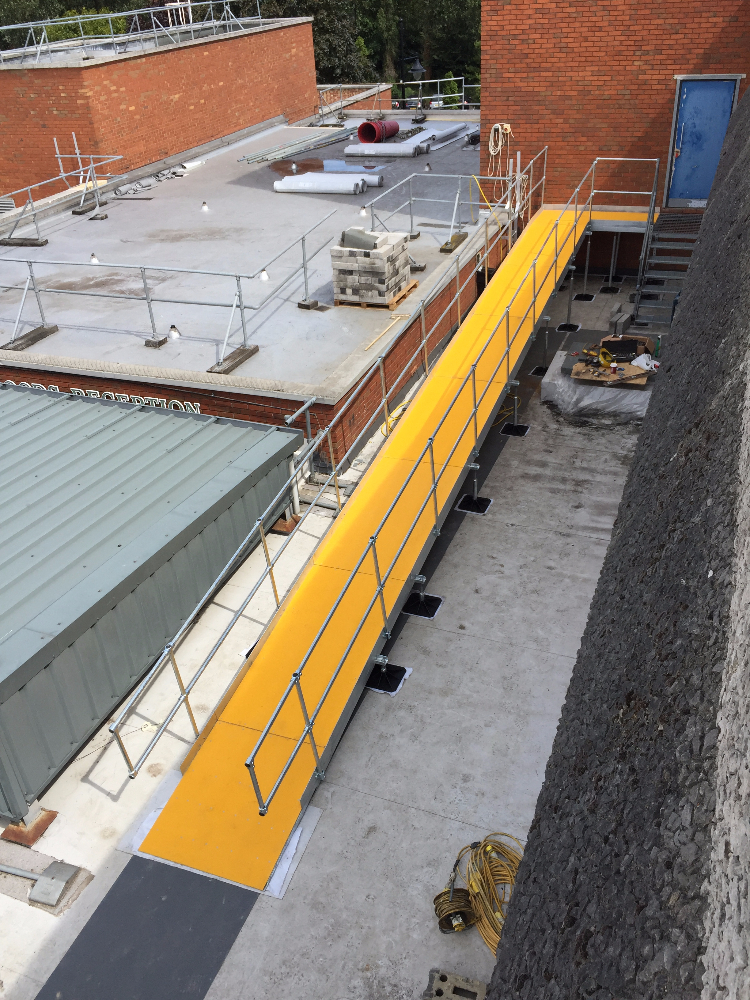 Project: Primark Store, Staines upon the Thames
Products: Safe Access: Custom platforms and walkaways
Services: Bespoke access ramp solution
Roof build-up: Warm roof design / TPO/PVC membrane
DiversiTech and FLEXI was recently asked by a contractor working on the project, to provide an external rooftop access ramp solution for a proposed route out of a building down onto the flat roof.
The solution had to be fully adjustable against typical flat roof falls, yet not penetrate the waterproofing below. Steelwork had to be hot-dip galvanised while landings needed to offer excellent slip resistance. Therefore, FLEXI supplied a non-slip 8mm thick GRP sheet to the full extent of the landing areas.
Our solution was supplied with full handrail and kick plates to all exposed sides to ensure the safe passage of pedestrians and cargo.
We prepared full working AutoCAD drawings for approval before manufacture started. Once approved, the solution was manufactured in smaller landing modules which facilitated easier lifting and fitting by the installers on site. All modules were identified by number; which in-turn was cross-referenced within an installation drawing that we supplied. This simplified the installation on the roof which in-turn provided a quick unimpeded fitting of our solution. Complete assembly in only four hours!
All our access solutions are designed to comply with British Standards where appropriate. We supply all necessary fixings for the products, and we will even attend the site on the day of installation to supervise the correct assembly of the goods.
Sharing is caring!