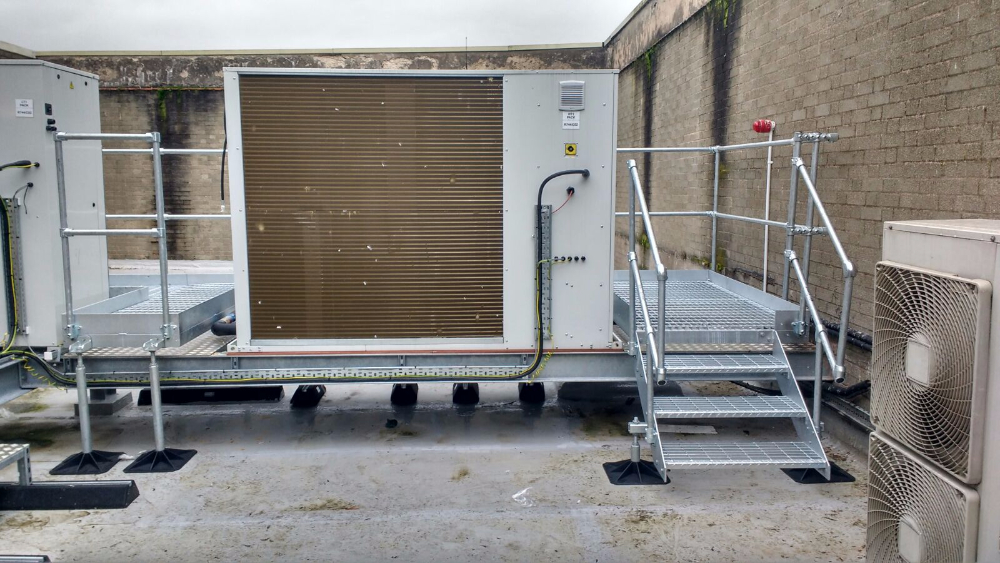 Project: Tesco Express Shaw, (Borough of Oldham)
Products: Safe Access Bespoke Custom Walkway and Platform
Services: Existing condensers
Roof build-up: Existing warm roof design (bituminous felt) Overlaid with a liquid applied plastic waterproofing layer
An operational of a Tesco Express Store, in the heart of the Shaw community, that had existing high-level condensers upon the flat roof requiring annual upkeep.
DiversiTech and FLEXI was approached by the contractor working on the project, to supply a safe access solution around two existing condensers that required periodic inspection/maintenance. Due to the height of these condensers above the roof finish, an elevated secure access solution was needed, complete with full perimeter safety handrail.
FLEXI attended site and carried out a full site survey, before preparing working AutoCAD drawings for the approval process. The maintenance platform had to be hand-balled up to roof level, so a prerequisite was that the platform was supplied in smaller modular sections, that could be safely manually handled up onto the roof via an internal stairwell. Once the project team approved our design proposal, we commenced manufacture immediately and delivered our solution to site within ten working days.
The access solution was designed to comply with current British Standards. Due to the modular nature of the product, the answer was assembled very quickly on site by the installing contractor. All leg assemblies are fully adjustable against typical roof falls, and all feet incorporate an adhered rubber mat to their underside, to protect the roof surface.
Sharing is caring!